Horses
You Can Lead A Horse To Water....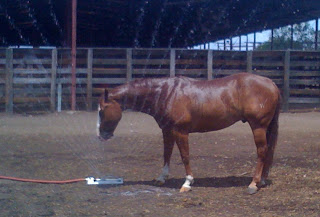 With more than 50 days over 100 degrees and record drought here in Texas, water intake and electrolyte balance is a routine question horse owners ask about. I thought I'd post an article with some information on this along with a funny picture I took over the weekend of Homerun, a 4 year-old cutting horse playing in a water sprinkler. This is how you survive a hot, dry Texas summer!!
Water is the main component of the body. In fact, an average 1000 pound horse is roughly 660 pounds (80 gallons) of water. About two-thirds of this water is inside cells, called intracellular fluid, and one-third is outside cells or extracellular fluid. To function normally, the body must keep the amount of water in these areas in balance and relatively constant. This is termed water balance. The water in the body contains dissolved mineral salts called electrolytes, primarily sodium, chloride, potassium, calcium and magnesium. These dissolved electrolytes exist as ions, which are charged particles that conduct electric currents, thus the name electrolytes. Electrolytes are used to maintain voltages across cell membranes, and are distributed through the body in a highly ordered way. Any disruption of this order can result in severe body dysfunction, including heart and gastrointestinal problems, muscle cramps and impaired brain and nerve function. Sodium and chloride concentrations are normally higher in extracellular fluid, while potassium concentration is higher in intracellular fluid. Electrolyte balance is tied very closely with water balance.

Water and electrolytes are excreted from the body primarily through sweat, urine and fecal output. The body attempts to maintain a balance between dietary intake of electrolytes and excretion rates. Kidneys adjust the volume and concentration of urine based on the water and electrolyte balance in the body through an intricate hormone signaling system. Electrolytes are not stored in the body, so the amount needed daily must be provided in the diet. If dietary electrolyte level is lower than needed, the kidneys will conserve and reabsorb electrolytes. If dietary electrolyte supply is more than needed, the kidneys will flush any excess. This very complex mechanism keeps water and electrolyte balance tightly regulated under normal circumstances. However, when the relationship between intake and output is challenged, normal mechanisms may not maintain the balance.

Hard work, especially in hot and humid conditions will challenge normal water and electrolyte balance mechanisms. Under these conditions, horses can lose as much as four gallons of sweat per hour, which carries with it approximately 10 tablespoons of electrolytes - primarily sodium, chloride and potassium. Human sweat is hypotonic, meaning the concentration of electrolytes in the sweat is lower than the concentration in the blood. As people sweat, sodium concentration in the blood rises. This triggers the thirst response causing the person to want something to drink. Horse sweat is hypertonic, the concentration of electrolytes in the sweat is higher than the concentration in the blood. As the horse sweats, sodium concentration in the blood remains unchanged even though large amounts of sodium are being lost in the sweat. Without the rise in blood concentration of sodium, the thirst response doesn't kick in. This is why dehydrated horses often show no interest in drinking, which simply makes the situation worse.

Hay and pasture contain high levels of potassium and a normal diet will provide adequate potassium to meet requirements of most horses. Usually, only hard working horses that sweat for prolonged periods need additional potassium supplementation. Most commercial horse feeds contain 0.5 – 1.0% added salt (sodium chloride) which, along with free-choice access to a salt block, will supply adequate sodium and chloride to meet requirements of horses in light activity. Horses being ridden regularly and sweating moderately on a daily basis cannot eat enough salt from a salt block to meet their needs. Providing 2 – 4 tablespoons of loose salt daily in the feed will meet the increased requirements. For horses that are sweating profusely, a mixture of 2/3 sodium chloride and 1/3 potassium chloride (Lite salt), would provide adequate sodium, chloride and potassium to replenish the higher losses. Commercial electrolyte supplements are also available, but should contain sodium chloride as the primary ingredient.

Providing daily electrolyte supplementation beyond what a horse needs to maintain balance can be very counterproductive. The kidneys will become very efficient at flushing the excess electrolytes out of the system and then on a day the horse really needs a higher level, they won't be available. The current recommendation for electrolyte supplementation is to provide additional electrolytes the day before, the day of and the day after a horse is going to work very hard and sweat a great deal. It is also very important that electrolytes are only given to well hydrated horses. Since you can lead a horse to water but you can't make him drink, dehydrated horses should receive fluids intravenously to be sure water balance is adequately restored.
-
Beating The Heat During The Dog Days Of Summer: Ideas For Decreasing Heat Stress In Horses
As summer drags on the heat can become a serious problem for many horses. The primary way in which horses cool themselves is through sweating. While the exact mechanisms for inducing sweat production in horses are not yet fully understood,...
-
5 Reasons To Try The New Purina Horse Supplements
Like the Purina Hydration Hay Original Horse Hay Block, we can finally start talking about the BRAND NEW Purina Horse Supplements! Specifically, there are four new supplements that hit the market in January 2013; Purina FreedomFlex Joint...
-
Winterize Your Horse!
As winter approaches and temperatures drop, horse owners need to consider how to winterize their horses. During the cold season, horse owners must make sure that their animals receive proper feed, water and shelter to stay healthy and comfortable. Feeding...
-
Anhidrosis
Unfortunately, it is that time of year again...it is hot, humid, and just plain miserable here in Florida. But what's even worse than dealing with the intense heat is dealing with a horse that has stopped sweating. Anhidrosis is common problem that...
-
Mineral Or Salt??
I was at a cutting horse show last weekend and was asked a good question that I thought might be of interest to other horse owners. The question was, "If I have good pasture and mature horses that aren't being ridden very much, do I need to give them...
Horses