Horses
5 Reasons to try the NEW Purina Horse Supplements
Like the Purina Hydration Hay Original Horse Hay Block, we can finally start talking about the BRAND NEW Purina Horse Supplements! Specifically, there are four new supplements that hit the market in January 2013; Purina FreedomFlex Joint Health Product, HydraSalt Salt Supplement, ElectroEase Electrolyte Supplement, and ElectroEase Electrolyte Paste Supplement. They are so new that you probably have not heard much about them. The new Purina supplement website is a great place to find all of the technical information about these new supplements. Here, I want to highlight some special features and unique technology that sets these supplements apart from what is already available on the market.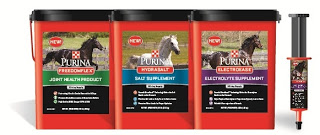 The New Purina Horse Supplements

1.
Scientific Research
When we first started discussing the possibility of developing a supplement line, we decided very early on that it was important to have scientific data behind any supplement we sold. This was a key reason why we chose to partner with Science Supplements, an established and reputable supplement company based in the UK. We looked at the extensive research that they had already performed, and built upon that with our own studies conducted at the Purina Animal Nutrition Center. This gave us the confidence to bring these products to the U.S. market, knowing that their formulas are backed by sound scientific principles.
2.
MicroBead Technology
Both the ElectroEase Powder and HydraSalt are manufactured using "MicroBead technology", meaning that the electrolyte salts are microencapsulated with an oil coating that helps protect the horse's stomach from potential irritation (i.e. avoiding the effect of "rubbing salt in a wound"). This is especially relevant for horses diagnosed with, recovering from, or susceptible to gastric ulcers. The MicroBead technology also helps ensure that the electrolytes are protected in the stomach and delivered to the small intestine. This is because the oil coating is best digested by enzymes in the small intestine, which is the location where maximal electrolyte absorption can occur.
3.
High-quality Ingredients for Quick Results
In a double-blind placebo-controlled study performed at the Equine Therapy Centre, Hartpury College (UK), horses were supplemented with FreedomFlex or a placebo for 14 days. They were assigned lameness scores and administered joint flexion tests at the beginning and end of the supplementation period. The rate of improvement in the FreedomFlex group was twice that of horses receiving the placebo. Fourteen days is a relatively short period of time, but we feel it should be long enough for a rider to detect at least some improvement in their horse when supplementing with FreedomFlex. This is because of the great lengths we've taken to insure that the ingredients in FreedomFlex are supplied at efficacious levels and are of high purity and quality. We feel that if you do not see any improvement after you use one bucket, then you probably should not buy another one.
The ElectroEase Paste is now one of the most concentrated products on the market, with over 27 grams of electrolytes per tube. The unique smooth-flowing formulation also makes it easy to administer, so you can replenish electrolytes both quickly and efficiently.
4.
Superior Palatability
Have you ever had a horse leave their electrolyte supplement at the bottom of the feed bucket? Horses sometimes find salt and electrolytes added to their feed to be unpalatable, especially when they are being fed higher amounts during hot weather. Both the ElectroEase Powder and HydraSalt contain a unique spearmint flavoring that is not sugar-based, but horses love nonetheless. And another benefit to the MicroBead technology is that it helps to "hide" the strong taste of salt, further improving intake. In fact, ElectroEase Powder was shown to be more palatable than one of the most popular electrolyte supplements currently on the market in palatability testing performed at our research farm.
5.
Coupons!
Everyone loves coupons, and if you weren't already convinced that these supplements are worth a try, perhaps some special discounts will further interest you. If you visit the Purina horse supplement website, you will find coupons for all 4 products on the individual product pages; $20 off for FreedomFlex, ElectroEase Powder, and HydraSalt, and $5 off for ElectroEase Paste.
We realize that there are many supplements already on the market, which makes it extremely difficult to sort through them all. We hope that by bringing you a line of quality supplements backed by the Purina brand and commitment to quality, we have taken some of the guesswork out of this process for you. Give them a try, and let us know what you think!
-
A Sunny Week In Seattle
Last week the annual ACVIM (American College of Veterinary Internal Medicine) Forum was held in Seattle Washington. I was privileged to attend this event both as representative of Purina Animal Nutrition at the trade show that accompanies this meeting,...
-
Hydration Hay Is Now Available And We Can Finally Talk About It!
Hydration Hay Package, Block and Fully Soaked When I show customers the Hydration Hay for the first time, I joke that this product is worth 7 years of my life. When I joined Purina in 2005, they were already working on a similar project that involved...
-
Aaep 2012
The Purina Horse Group spent the first week of December attending the American Association of Equine Practitioners (AAEP) Convention in Anaheim, CA. Not only does this meeting provide us a great opportunity to visit with veterinarians from all over the...
-
You Can Lead A Horse To Water....
With more than 50 days over 100 degrees and record drought here in Texas, water intake and electrolyte balance is a routine question horse owners ask about. I thought I'd post an article with some information on this along with a funny picture...
-
Anhidrosis
Unfortunately, it is that time of year again...it is hot, humid, and just plain miserable here in Florida. But what's even worse than dealing with the intense heat is dealing with a horse that has stopped sweating. Anhidrosis is common problem that...
Horses