Horses
Welcome to our farm!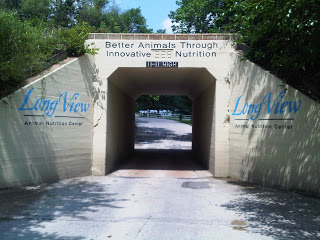 This week, our horse group hosted an equine nutrition conference for horse owners at LongView Animal Nutrition Center, which is our research farm in Gray Summit, MO. I really enjoy these events, because I get to meet so many interesting and successful horse professionals who have been personally invited by one of our Equine Specialists to attend. I also love the opportunity it gives us to "show off" our facilities and our people! I realize that it is probably impossible for most people to truly understand the level of commitment that Purina has to making exceptional horse feed….until they come to the research farm. I think that once someone actually sees first-hand what goes on "behind the scenes", the immense amount of time and energy that goes into making our feed becomes obvious. Since we'd never be able to have every single horse owner in the country come to the farm in person, the entire purpose of this research blog is to serve as your personal "behind the scenes" view of our farm...so you can get a feel for our daily activities and our commitment to "do best by the horse" in all things.

If you were at our LongView conference this week, your daily agenda would have included the following lectures by our experts:


Ingredients and Process Research

Feed Quality

Equine Reproduction and Growth

Equine Sports Nutrition (this was my lecture topic)

Equine Digestive Physiology

Body Condition Scoring
In addition, you would taken a farm tour and seen our:
Horse palatability lab

Exercise physiology equipment, including a demo by one of our treadmill horses

Herd of 70+ research horses of all ages

Veterinary services lab

Dairy, beef, and other species research units
It's hard work putting this type of event together, but totally worth it. I hope that as time goes on, you will understand and appreiciate that we take equine nutrition research seriously at Purina. Stay tuned, there's a lot more to come!
-
In The Shadow Of Giants….
A few weeks ago, several of my co-workers and I had the opportunity to take part in a behind-the-scenes tour of Grant's Farm, home of the up and coming and retired Budweiser Clydesdales. Many thanks to Dr. Katie Young who organized the tour. ...
-
Big Fun And "big Ideas In The Big Easy"
I love to attend veterinary conferences. I always have – from the very start of my career as an equine practitioner, through my university faculty years and now as a technical services veterinarian in industry. Sure… attending conferences is...
-
Success Is Sweet!
Our sixteen horses ran very well this week on the treadmill and we are excited to be getting this exercise physiology project underway. And now that all of our preliminary treadmill data are taken, we review our horses' basic physical fitness and...
-
Checking Things Out
I have spent the past couple of weeks going between Longview and the work we have progressing there, and the field where we have several tests happening also. Once initial testing is complete at Longview we ask people to help us out by trying the...
-
Another Day At The Farm
One of the things I enjoy most about working for Purina at their research farm is simply that; working on the farm. I think many people associate Purina with other big corporate giants and do not grasp our agricultural heritage. This picture was taken...
Horses