Horses
Temple Grandin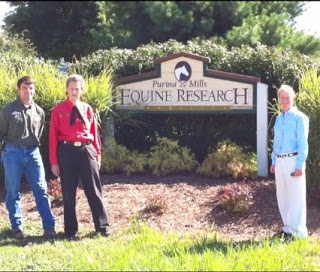 Last week I had the opportunity to meet Dr. Temple Grandin when she spent a day at our research farm. If you are not familiar with Dr. Grandin, she's had a huge influence on the livestock industry with her innovative designs of livestock handling facilities, is a Professor of Animal Science at Colorado State University, and has conducted a great deal of research on animal behavior and management. She has also authored numerous journal articles and books, and is a consultant on facility design, livestock handling and animal welfare around the world. I've read one of her books and found it absolutely fascinating. So it was quite an experience actually getting to hear her talk about her thoughts and research results. She spent the day visiting the various species' units, and it was so much fun talking to her about our horses and facilities!
If you have not read Dr. Grandin's book "Animals in Translation", I highly recommend it, and I'm planning on reading "Animals Make Us Human: Creating the Best Life for Animals" as soon as I can. Of course, the movie about her life on HBO was also great, as evidenced by the multiple Emmy wins on Sunday night! And it was pretty cool seeing her live on TV at the Emmy Awards on Sunday night. I've got to think she had to just about fly directly from St Louis to California to make it to the show! What a privilege that she made time in her schedule for us.
Anyway, Dr. Grandin has remarkable insight into animal behavior, due to the similarities in perception and thought that she shares with animals. For instance, being autistic, Dr. Grandin thinks in pictures, not in words as most of us do, and research indicates that animals also think in pictures. This, as well as other unique characteristics due to the autism, enables her to look at the world and understand how animals perceive their surroundings, and share these observations with those of us who are not as in tune with what the animals see and how they react to what they see. I have to admit, owning and riding a very spooky horse (he's named "Boo" for a reason, after all) has been an education for me on viewing the world from a prey animal's perspective, but Dr. Grandin does an excellent job of verbalizing how and why animals react and behave the way they do. I think anyone who spends any time working with animals would benefit from Dr. Grandin's books or lectures. I know I did!
-
Dedication To Animal Nutrition
Today marks the 31st anniversary of Barb Tremayne's employment with Purina. Barb is a registered veterinary technician who joined the company in 1981. Barb began her career with Purina helping to develop products such as dewormers and fly sprays...
-
Where did fall go! Fall was very busy for us here at the farm, we have have worked through several studies, hosted our veterinarian conference, and have been preparing for winter. Winter has hit us already with some unseasonably low temperatures, a little...
-
A Busy Time Of Year - Heck Isn't It Always Busy...?
We just finished up two big guest events here on the farm. First we hosted a group of 25 veterinary students from Purdue and Michigan State University. They were primarily interested in livestock research and medicine but there were some who had an equine...
-
Where Does The Time Go?
Seems like just the other day we were complaining about how cold it was outside and now here we are with a heat index of 105 degrees! Our horses are enjoying summer pasture today, but were thinking a little differently about it in January when I took...
-
Morning At Longview
6:45 am. I really love to arrive early for work here at Longview. Even though it is still early the crew is already heading out to feed all of the animals. But still there is a peacefulness about it, and it offers me a great opportunity to think about...
Horses