Horses
Dedication to Animal Nutrition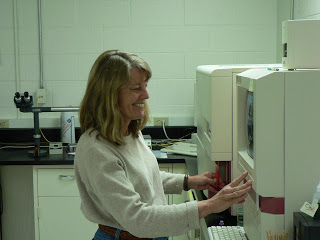 Today marks the 31st anniversary of Barb Tremayne's employment with Purina. Barb is a registered veterinary technician who joined the company in 1981. Barb began her career with Purina helping to develop products such as dewormers and fly sprays for Ralston Purina's Health Industries division. She then moved to Veterinary Services, where she remains today. It is difficult to describe all that she does in a day, because she is definitely our "jack of all trades", our own Miss Fix-it. She does it all, from assisting me in taking care of the animals here at the research farm to performing laboratory analysis on samples collected from all of our research units. She also does all the ordering, inventory and equipment maintenance, along with countless other tasks through the day. Barb is a huge asset to our operation and we couldn't do what we do without her.
In today's world loyalty, passion and dedication are often lacking in the workplace. Barb's committment to helping make the lives of animals better through nutrition is a great example for us all to follow. Thanks Barb for all that you do!
-
Big Fun And "big Ideas In The Big Easy"
I love to attend veterinary conferences. I always have – from the very start of my career as an equine practitioner, through my university faculty years and now as a technical services veterinarian in industry. Sure… attending conferences is...
-
Field Study "cuties" And A Great Dealer.
Mike Jerina has been posting recently on his visits to California and North Carolina to check up on some farms conducting field trials for us. And while Mike was away in those states, I have been here in the northeast...
-
Friday
I can't believe its Friday again already! Springtime has a way of making the days really start to slip by quickly when you have foals on the ground and mares to get bred back. We still only have our three little ones, the next mare in line was actually...
-
Temple Grandin
Last week I had the opportunity to meet Dr. Temple Grandin when she spent a day at our research farm. If you are not familiar with Dr. Grandin, she's had a huge influence on the livestock industry with her innovative designs of livestock handling...
-
You Never Stop Learning
One of the things I love most about my job is the opportunity I have to interact with other nutritionists and to learn "what's new" in animal nutrition. It is an ever-changing field, so you must stay current with the latest research. Today,...
Horses