Horses
Ready!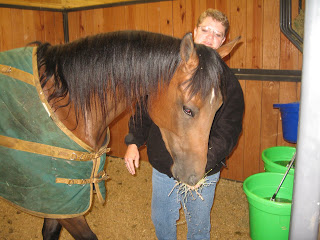 We arrived in Fort Collins yesterday to see our horses before the big sale today at Colorado State University. They all look great, the students have done an outstanding job of getting them prepared and we are excited to see how they sell today.
Kool Dory was hanging out in her stall last night where we got this picture, she actually won the student competition between all of the horses in the class!
You can view the auction (and bid if you feel inclined to do so) at Superior Livestock Auctions online at 12:00 pm central time.
-
Legends Done Until Next Year
We had a good showing at the Legends of Ranching sale last weekend, our horses all went to good homes and the students that trained them were very appreciative of the opportunity to work with some of our horses. We have the next batch getting ready for...
-
Think Back To August 27th........
It really does not seem that long ago, I have a quick video clip attached of that morning at about 5am. We are loading the first of four of our horses from here at Longview that were going to Colorado State University for the training program that leads...
-
Growing, But Stil Needs A Name....
Dottie's foal is growing and doing great but he still needs a name. I know, its totally unacceptable that he doesn't have a name yet, but a name is something that stays with you the rest of your life and when you're special like this little...
-
Tonight Maybe!
Snakey is still holding onto her foal and not really showing us any signs of foaling for this evening, BUT another mare is! Patty has had some wax on her teats today and has been restless all afternoon. Tonight might be the night. The side view picture...
-
Temple Grandin
Last week I had the opportunity to meet Dr. Temple Grandin when she spent a day at our research farm. If you are not familiar with Dr. Grandin, she's had a huge influence on the livestock industry with her innovative designs of livestock handling...
Horses