Horses
Purina Ambassador Shawn Flarida Guest Post
Hi Purina fans! My name is Shawn Flarida and I am the National Reining Horse Association's Leading Rider with $4.9 Million Dollars in earnings. I have been partnered with Purina for several years and it has been one of the best relationships I have had with a company. I spent many years experimenting with different types and brands of feeds before I discovered Purina and their great products. We also have the same outlook on what we do. Both Purina and I want to be the best at what we do and we work hard to make sure that we are providing a great product for our customers.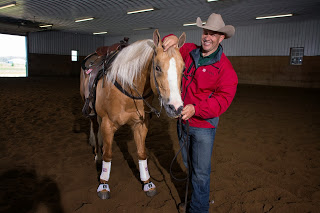 My training program has everything from yearlings, two year olds, three year old futurity horses, breeding stallions and aged horses in it so I need a company that can provide a wide variety of high quality feeds. Although my facility is focused on show horses, my wife Michele and I own several broodmares and raise four-five babies each year too. Horses need different feeding programs depending upon where they are in the growth cycle as well as the training cycle.
I primarily feed Purina® Strategy® Professional Formula GX horse feed to my young horses and broodmares. It is nutritionally balanced and the pellet form makes it easily digestible. As my horses' workload increases with their training requirements, I move them to Ultium® Competition formula which has a Sustained Energy System® that has made a huge difference in the energy levels, overall appearance and fitness of my futurity horses.
My feeding program is dependent upon the workload each horse is experiencing throughout the calendar year. My futurity horses have increasing physical and mental pressure as the year goes on culminating with the NRHA Futurity in late November. I also top dress my feed with Amplify®, a high fat, controlled starch supplement that helps my futurity colts maintain a good body condition throughout the futurity season.
For me, Purina has a product for every type of situation I may run into with one of my horses. In addition, they have done extensive research on their products which helps me know what to use and when.
-
Are Extruded Feeds Easier For A Horse To Digest?
If you have ever fed a commercial dog food product, you know what an extruded feed looks like. Extrusion is simply the process of pushing a mix of heated feed ingredients through small holes under high pressure. You don't see many extruded horse feeds...
-
New Babies - Cute Little Growing Machines!
Spring is so fun, nice weather and new babies arrive for us to enjoy! Mike has been posting the new arrivals at Longview Animal Nutrition Center so I thought I'd share mine. Our own broodmare mare, Dottie (Do It Stylish), a Quarter Horse mare, had...
-
Two Purina Ambassadors On Weg Usa Reining Team
Shawn Flarida Congratulations to Purina Ambassadors Shawn Flarida and Craig Schmersal for qualifying to represent Team USA in the reining competition at the upcoming World Equestrian Games. Shawn will be showing RC Fancy Step and Craig will show Boom...
-
Changing Seasons Means Changing Diets
Looking at Mike's post showing how different a horse's environment can be from one season to the next is a great reminder of how very different a horse's diet may need to be from one season to the next. Forage, hay or pasture, makes up anywhere...
-
Practice What You Teach...
Another week come and gone, lots of interesting questions from horse owners this week on feeding a variety of horses, from weanlings to senior horses. This morning at the Davison Ranch (Really we have a ranchette since it is 40 acres, seems like you really...
Horses