Horses
Purina Ambassador Laura Kraut – Guest Post
For as long as I can remember the red and white checkerboard has been part of my life. We fed my first pony Purina® horse feed. I'm not sure which type we used, but I remember the checkerboard on the label and the great smell when we opened a new bag. My pony loved it of course, and I was very proud to feed him grain made by such a famous company. Now, many years later (more than I want to count) my horses are all fed Purina® products. From my pony, "Siamese Kat," at the barn down the road, to "Cedric" at the games in Beijing and countless international competitions, Purina has been with me every stride along the way.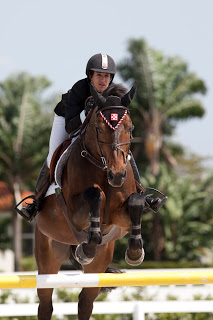 My stable in Wisconsin was a test barn for Strategy® horse feed over 20 years ago. I found this to be an interesting process during which my sister and barn manager Mary Elizabeth and I learned a great deal about equine nutrition. We were happy to be part of the team who helped bring the Strategy® formula to market, and now, many years later Purina® Strategy® horse feeds have provided over a billion feedings to horses across the country. We also utilize other grains such as Equine Senior® horse feed, Ultium® Competition Horse Formula, Omolene#100® and Omolene #400® horse feeds and the recent addition of Strategy®Healthy Edge® horse feed. Horses have different nutritional needs depending on their age and level of work, but we have found that these products meet the needs of everyone in the barn.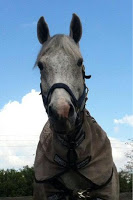 Travel is a necessity for grand prix show jumpers. This year my horses will travel from Florida to England, Belgium, Holland, Germany, France, Switzerland, Austria, Ukraine, Canada (I'm probably forgetting a country or two) and back to the United States. The horses log a lot of miles in the air and on land and their Purina® horse feed travels with them. The addition of HydrationHay™ Blocks has been a nice complement to our program. We utilize these on long trips to ensure the horses remain hydrated and to provide a consistent nutritional value of the forage we are feeding. We have also started using HydraSalt® and ElectroEase® supplements to replace lost electrolytes after competitions and travel or on hot summer days.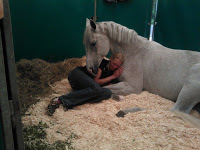 Our feeding program helps support the horses' immune systems during travel and enables them to maintain an optimal weight and beautiful coats while also giving them the energy they need to compete at the highest level. I can count on the consistency and quality of these products. I am sure we have fed thousands of bags of Purina® feed during my career, and I can honestly say I do not ever remember opening a "bad" bag of feed. That's a pretty amazing fact and speaks to the level of care Purina puts into their products.
Through the years I have always felt the Purina employees were part of my team. The sales representatives are friendly, helpful and knowledgeable, while the nutrition experts at the Purina Animal Nutrition Center are always available any time we need additional support. "It takes a village" to keep my horses at their best, and I am happy to be in the same "village" as Purina.
-
Happy New Year, Happy New Barn!
Happy New Year everyone! You may have noticed that we didn't have a lot of blog posts directly from the Purina Animal Nutrition Center the second half of 2013, and that is because our palatability barn looked like this: Our team was really...
-
Happy Holidays!
Merry Christmas and Happy New Year from Purina!I love incorporating my animals into holiday cards, and I get asked from time to time how we actually get some of them done, especially the photos of the pony in Christmas lights and eating the snowman's...
-
Feed Fit For A King - Purina And The Budweiser Clydesdales
Ok, I admit it. Even after a year of working with the Budweiser Clydesdales, I am still the worst stereotype of a horse-crazy tourist—taking pictures with my phone of the horses, the dogs, the wagons, me with the horses, and the dogs, and the...
-
Timely Nutrition Talks In Belgium, Part Ii
This blog post is a continuation of the one below titled "Take Home Messages from Timely Nutrition Talks in Belgium, Part I." Read that post first to get the full story! On day two, we had another tag team talk with Al Merritt (Professor Emeritus,...
-
Helping Courtney King-dye Reach The Paralympics With Make Lemonade
This article is courtesy of Jamie Brockett, Purina sales specialist from Poughquag, New York.The life of a Purina sales specialist is exciting; it consists of traveling to all the farms in your area, seeing some magnificent horses, and having the...
Horses