Horses
Helping Courtney King-Dye Reach the Paralympics with Make Lemonade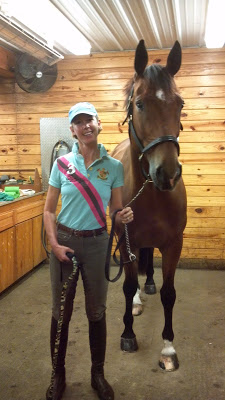 This article is courtesy of Jamie Brockett, Purina sales specialist from Poughquag, New York.
The life of a Purina sales specialist is exciting; it consists of traveling to all the farms in your area, seeing some magnificent horses, and having the reward of being a valuable resource for people to help best manage the nutritional needs of their four-legged friends. Last week was extra special though as I got to apply my "tools" to a very special horse, Make Lemonade.
Make Lemonade, also known as Buddy, is the new mount for Purina ambassador Courtney King-Dye. He is a handsome fellow, a dark bay Hanoverian with bright eyes and a spunky attitude.
For those of you that follow Courtney's blog (http://www.ckddressage.com/), he's the horse she fell in love with in Florida and couldn't get out of her mind. Jane Clark, a phenomenal supporter of the horse industry, graciously bought Buddy as a mount for Courtney to ride on her quest to the Paralympic Games in London this year. Courtney and her team have been training for the Paralympic Trials, coming up in June at the United States Equestrian Team Foundation Headquarters in Gladstone, New Jersey. Courtney has been working on rebuilding her strength after her accident two years ago (which by the way her progress is quite remarkable and inspiring!), and Buddy has been working on losing some weight! Courtney, a professional who has been showing and training horses her whole life, knows the value of having the right nutrition program, especially with goals as big as London. Thus, she called in Dr. Mary Beth Gordon and me to evaluate and make any final tweaks to get Buddy in Olympic shape.
Usually I do these calls by myself, but since this was a special case, Dr. Mary Beth joined me on the road. I think she secretly wanted out of the research office for a beautiful, sunny afternoon, and to get a glimpse at the horse we've all heard Courtney gush about. As with any other evaluation, the first thing Dr. Mary Beth and I did was take an evaluation of Buddy's physical appearance. We placed our hands on Buddy and evaluated his current Body Condition Score. On a scale of 1 to 9, Buddy scored a 6. This means he has just a touch of excess fat. In this case, Buddy was a little "curvy" around his shoulder and on his rump by his tail head. Other than the excessive weight, Buddy looked to have a healthy, shiny coat and good muscle tone.
Next, we talked to Courtney, her assistant trainer, Jen, and her working student, Koryn. We asked about Buddy's medical history, his current feed program, his turnout schedule, what his routine work was like, and also if there were any concerns they had with his current program. They explained Buddy was transitioned to Purina® Ultium® Competition horse formula one month before they shipped him from Florida to New York, where they train for the summer season. The day we were there marked one week of the northern climate for Buddy, so he had some big changes in a relatively recent time frame.
Additionally, they explained they are working on his extra curves and were excited to tell us he had slimmed down considerably from a month ago! As far as his work load, Buddy previously thought he was in retirement until he found himself in Courtney's barn where he is being used for Para-competitions, and will also train as a third level dressage horse. This means he's getting double rides five to six days a week, which pleased Dr. Mary Beth and me since he still has some weight to lose. With no known medical issues, we were able to then turn our attention to the feed program.
When evaluating the feed program, it is important to take all aspects of feed and forage into consideration. Buddy is out on good quality pasture for a minimum of one hour a day. They're gradually working him towards more turn-out until he is out as long as he wants to be. Additionally, he is on free-choice hay. Pasture and hay make up a large portion of a horse's diet, so knowing the quality of pasture and hay helps determine the amount and specific kinds of grain required to balance out its nutrition program. Dr. Mary Beth and I took core samples of the hay, so it can be analyzed and we can make sure it is an appropriate fit for Buddy's program. From first glance, it looks like high-quality, clean, grass hay that should suit Buddy's forage requirements.
Next we looked at the amount of grain Buddy is getting. Currently they're feeding him 1 quart of Purina® Ultium® Competition horse formula three times a day. A quart of Purina® Ultium® Competition horse formula is just a little heavier than 1 pound, so Buddy is on a little over 3 pounds of Purina® Ultium® Competition horse formula a day. Ideally, a horse should be on a minimum 4 pounds of Purina® Ultium® Competition horse formula a day to meet all of his nutritional requirements. However, since Buddy is slightly overweight, we opted to keep him on this lower feeding rate and recommended adding in 1 cup of Purina® Nature's Essentials® Enrich 32® supplement at each meal. Any time a horse is not on a minimum recommended amount of grain, we suggest adding this supplement as a diet balancer to round out the rest of the nutritional needs the horse has. Purina® Nature's Essentials® Enrich 32® supplement provides additional protein, vitamins and minerals to the diet. In Buddy's case, it will be added in a month once he has adjusted to his new environment and the pasture. As with all things related to horses, we don't want to have too many changes all at one time.
Overall, Buddy was on the right track with his nutritional program. The reassurance of the team at Purina helped Courtney and her barn feel that much more prepared for the upcoming trials, which will hopefully result in a spot on the Paralympic team for Make Lemonade and Courtney. We wish them the best of luck!
For your own evaluation of your current feed program, please feel free to contact your local Purina sales specialist. These services are provided to all barns, compliments of Purina.
Jaime Brockett lives in Poughquag, New York, and received a bachelor's degree in animal science and business and management from Pennsylvania State University. For the past two years, she has worked for Purina in the Hudson Valley with a focus on equine nutrition. She comes from a family of veterinarians who practice together at their private clinic in central Pennsylvania. Growing up, Brockett developed her passion for horses by riding and showing hunters from a very young age.
-
Ration Balancers - What Are They And How Do I Use Them?
Note: This is an update to a blog originally posted in March 2011. Purina Enrich 12 and Enrich 32, mentioned in the original blog, have been discontinued and replaced by the new and improved version of Enrich 32, Purina Enrich Plus. You may have...
-
A Helping Hoof
Some of you may have read Jamie Brockett's recent blog post about Courtney King-Dye's paradressage horse, Make Lemonade. A part of Courtney's recovery included some time spent in therapeutic riding. As an FEI level rider, the choice of this type...
-
Utah Horse Trainers Challenge At The Utah Horse Expo
Every year about this time, Utah's best horse trainers have just finished taking part in the Utah Horse Council Trainers Challenge. This event pits four of the state's top trainers, selected from an initial pool of applicants who are then whittled...
-
Changing Seasons Means Changing Diets
Looking at Mike's post showing how different a horse's environment can be from one season to the next is a great reminder of how very different a horse's diet may need to be from one season to the next. Forage, hay or pasture, makes up anywhere...
-
Time To Wean
Texie is the first foal by the really nice stallion Freckled Leo Lena that my husband raised and showed in the cutting. We are so thrilled with her and can't wait to ride her, but first things first. She is just about at weaning age now, she was...
Horses