Horses
New Product Release for Ultium Growth!!!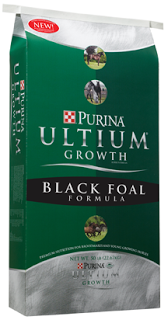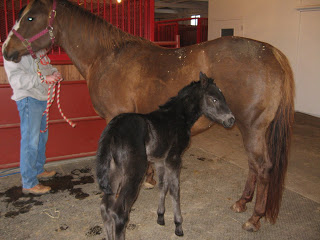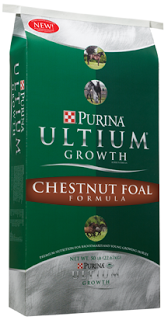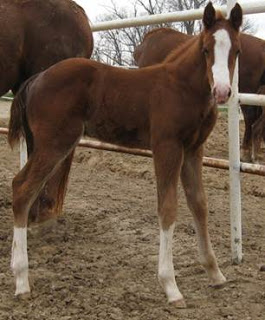 It is with great pleasure, that we announce the release of two new Ultium Growth products: Ultium Growth- Black Foal and Ultium Growth- Chestnut Foal. Through years of nutritional research, we have finally determined how to feed broodmares to influence foal coat genetics and ensure your foal is born in your desired color! See the pictures below of our babies, each a chestnut (yes I know some of you Quarter Horse people would want us to call this sorrel) and a black foal, each born from a mare feeding the appropriate "color marking" feed. Stay tuned to this blog for more information on when these feeds will be available in your area. And yes, we are working on more Ultium Growth color feeds- especially for grey, bay, palamino and even pinto horses.
PS. April Fools!
-
New From Purina Animal Nutrition!
It's hard to believe we've actually done it! Years and years of research, countless ultrasounds, timely breedings, sleepness nights, foal after foal being born….and we have finally figured out how to feed broodmares and combine our breeding expertise...
-
The Newest Purina Research Team Member!
Our first foal arrived early Wednesday morning and he is up, nursing, running around and doing great. He has arrived just in time for a major snow and ice storm, so he has yet to be introduced to the outside world. And since its only 28°F...
-
Nutritional Support For Lactating Mares
Foals are eating machines that rely on their mother's milk to help them grow and develop. If you're not mindful, they can drain a mare of her nutrients leaving her in poor body condition. Mares can lose a significant amount of weight during lactation...
-
New Babies - Cute Little Growing Machines!
Spring is so fun, nice weather and new babies arrive for us to enjoy! Mike has been posting the new arrivals at Longview Animal Nutrition Center so I thought I'd share mine. Our own broodmare mare, Dottie (Do It Stylish), a Quarter Horse mare, had...
-
Sneaky
When you work with horses surprise is never in short order. At the last check around midnight neither of the mares we suspected yesterday (Patty or Snakey) was looking much different, and this mare (Lucy) was just kind of hanging out. Lucy is actually...
Horses