Horses
The newest Purina Research Team Member!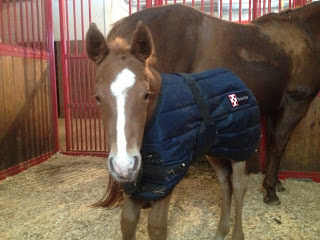 Our first foal arrived early Wednesday morning and he is up, nursing, running around and doing great. He has arrived just in time for a major snow and ice storm, so he has yet to be introduced to the outside world. And since its only 28°F in the barn, he's got his blanket on to help him stay warm. Brrrrr! This year, our mares and babies are being fed our Ultium Growth feed, as we continue a large multi-year study monitoring mare gestation and young horse growth on a high fat and fiber concentrate. This foal doesn't have a barn name yet, but he does have an official research number, 1301. He's quite the scrappy fellow and tries to kick at you when you scratch his rear end, and that's how we like them! Of course he will be trained to behave more appropriately in the coming days, but some spunk is a good sign in a newborn foal. We are expecting 8 more babies in the next few weeks, hopefully not all will arrive in the middle of snow and ice. Maybe this foal should be named Stormy….
-
Horses, A Family Affair!
It should be pretty apparent if you have been following our blog by now that everyone in the horse group at Purina Animal Nutrition is passionate about horses and interacting with them. If you are involved with horses you know that it is far...
-
Nutritional Support For Lactating Mares
Foals are eating machines that rely on their mother's milk to help them grow and develop. If you're not mindful, they can drain a mare of her nutrients leaving her in poor body condition. Mares can lose a significant amount of weight during lactation...
-
Growing, But Stil Needs A Name....
Dottie's foal is growing and doing great but he still needs a name. I know, its totally unacceptable that he doesn't have a name yet, but a name is something that stays with you the rest of your life and when you're special like this little...
-
Nine Is Fine!
Number nine out of ten expected foals arrived yesterday, he got to go out and explore the world this morning. (He thought the human with the camera was the most interesting thing apparently) Our foals get 24 hours with mom in a stall before their first...
-
Sneaky
When you work with horses surprise is never in short order. At the last check around midnight neither of the mares we suspected yesterday (Patty or Snakey) was looking much different, and this mare (Lucy) was just kind of hanging out. Lucy is actually...
Horses