Horses
Time to wean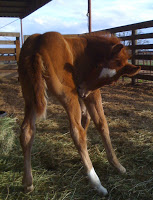 Texie is the first foal by the really nice stallion Freckled Leo Lena that my husband raised and showed in the cutting. We are so thrilled with her and can't wait to ride her, but first things first. She is just about at weaning age now, she was born on Feb. 16 (photo taken at 2 weeks old)and is soon to be 4 months old. We don't want to wait another month or two here in South Texas because it will be so hot which would add to the stress of weaning. So, we're getting a "friend" for her from another horse owner in town that has a foal to wean about the same time and we'll wean them both together so they'll have a buddy. The way Texie eats her Strategy, she won't miss her mom for too long, she's a real Chow hound! So, with a new friend, nice pasture and Strategy twice a day, Texie will have every opportunity to grow and develop to be the fabulous athlete she is bred to be.
-
Lesson Horse Joys (not So Much!)
Along with my real job as an equine nutritionist, I also train a few horses and give riding lessons. Unfortunately, my little lesson herd has become fairly geriatric, and in the past year I've had to give up one of my wonderful horses to a perfect...
-
Growing, But Stil Needs A Name....
Dottie's foal is growing and doing great but he still needs a name. I know, its totally unacceptable that he doesn't have a name yet, but a name is something that stays with you the rest of your life and when you're special like this little...
-
New Babies - Cute Little Growing Machines!
Spring is so fun, nice weather and new babies arrive for us to enjoy! Mike has been posting the new arrivals at Longview Animal Nutrition Center so I thought I'd share mine. Our own broodmare mare, Dottie (Do It Stylish), a Quarter Horse mare, had...
-
Lucky Timing!
The weather really helped us out yesterday, it was a little chilly but we managed to get our 10 pregnant mares down to the barn. They spend the summer months on pasture where they can just hang out and be horses. We like to get them in to the barn where...
-
Morning At Longview
6:45 am. I really love to arrive early for work here at Longview. Even though it is still early the crew is already heading out to feed all of the animals. But still there is a peacefulness about it, and it offers me a great opportunity to think about...
Horses