Horses
Smorgasbord!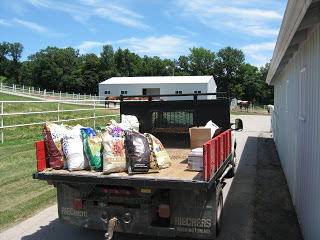 The visitors we had earlier this week had a chance to see all of the horse feed products we have to offer. When the visitors leave, the products come down to the horse unit where our horses get to indulge on the samples!
-
Running For The Roses At The Purina Research Farm This Week!
One of our favorite things to do at the research farm is conduct exercise physiology studies. We have a phenomenal set up with a high speed treadmill and Equi-ciser that we use regularly for experiments, training, weight maintenance and other research...
-
The Legends Of Ranching
Some might be wondering why we have information about a horse auction called "The Legends of Ranching Sale" on our website. The horses that we raise here at the farm stay here to work with us, developing new products, and then go to individuals that would...
-
Nine Is Fine!
Number nine out of ten expected foals arrived yesterday, he got to go out and explore the world this morning. (He thought the human with the camera was the most interesting thing apparently) Our foals get 24 hours with mom in a stall before their first...
-
Friday
I can't believe its Friday again already! Springtime has a way of making the days really start to slip by quickly when you have foals on the ground and mares to get bred back. We still only have our three little ones, the next mare in line was actually...
-
Monday, Monday
With the holidays being over its back to work! Just another Monday here at the farm, we are getting ready to haul our mares down from pasture in preparation for foaling. We usually like to do it a little earlier but the weather has not been very cooperative!...
Horses