Horses
Purina ambassador Guest Post – Beezie Madden
Purina has been our choice of feeds through the past two Olympics, numerous World Cup Finals, including one fantastic win and through the development of many top horses. I have been honored to represent Purina® products since 2007 and this relationship has always been about providing the best for the horses. John and I made a decision to feed Purina® products for an entire year before signing a sponsorship deal, to make sure we were happy, our staff was happy and most importantly, our horses were happy. At the end of that test year, we were convinced that Purina offered products, research and service that we could feel confident lending our names to.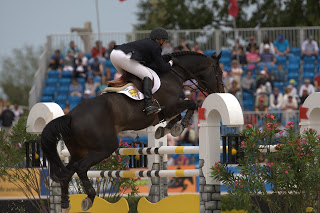 We always say that winning is just a byproduct of what we do every day outside of the show ring. We strive to provide the best in care for the horses in everything from shoeing to vet-work to consistent training. Our feed program naturally fits into this. Purina products, especially the Enrich Plus™ ration balancing feed we've been using recently, have offered our horses consistent quality. It is great that our staff can be secure knowing that whether we're at our home farm in Cazenovia, New York, our winter home in Wellington, Florida or at any of the many other shows we frequent throughout a show season, when we pick up a bag of feed for our horses, we know the feed will have the same quality products inside.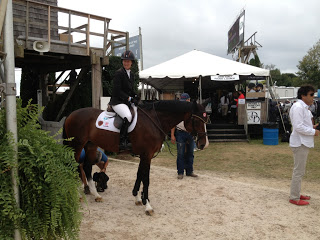 Having the experts at Purina available to discuss different animal's needs throughout a competition season has been hugely valuable to us. Obviously, our broodmares and young stock have different needs than our competition horses, but even within our competition horses, we have quite a bit of variety. The program we create with the input from Purina experts for Breitling LS is different than the program for Cortes 'C'. Small changes to specialize diets for each horse's needs have made a difference that I notice when riding in building muscle and keeping a cool, level energy in our string of horses.
As I sit here at the Hampton Classic looking ahead to the rest of the 2013 season and our longer goals, including the 2014 WEG and 2016 Olympics, I am confident that as we are striving to do best by our horses to help them develop and become winners, Purina will be there supporting us with the best in nutrition for Simon, Cortes 'C', Breitling LS and all our future champions.

As a Purina Ambassador, Beezie is compensated by Purina Animal Nutrition in connection with her participation in Purina Ambassador program.
-
Happy New Year, Happy New Barn!
Happy New Year everyone! You may have noticed that we didn't have a lot of blog posts directly from the Purina Animal Nutrition Center the second half of 2013, and that is because our palatability barn looked like this: Our team was really...
-
Welcome To The Summer Riding Season
Just past the longest day of the year and the summer riding season is in full swing! Coast to coast, horse owners are loading up and hitting the trails, heading to shows and taking on the competition. Recently we checked in with a few of our national...
-
Is It Really You??
Year end work at the farm is typically pretty crazy. There are a lot of loose ends to tie up with paperwork, and on top of the paperwork we have a bunch of horses to take care of. This time of year in our part of the country is kind of tough on the horses...
-
Riding And Research
Well, I had a busy weekend as I took my horse Pizzaz to a dressage show in Wellington, FL. One of the greatest things about south Florida in the winter is the awesome show series for dressage riders and hunter/jumpers alike. And of course, there...
-
Changing Seasons Means Changing Diets
Looking at Mike's post showing how different a horse's environment can be from one season to the next is a great reminder of how very different a horse's diet may need to be from one season to the next. Forage, hay or pasture, makes up anywhere...
Horses