Horses
2013 Purina Equine Veterinarian and Vet Technician Conference – Another great meeting!
The 14th Annual Purina Equine Veterinarian Conference, held at the Double Tree Hotel within the historic Union Station, downtown St. Louis on October 11 – 13 was by all reports, a resounding success. Consistent with the standard that Purina has set over the years for hosting a high-quality, informative yet fun meeting, this year's conference was rated highly by over 350 attending veterinarians, vet technicians and vet students. The group was hosted by over 30 Purina Sales Specialists and the entire Purina Horse Business team. We all learned a great deal and had a wonderful weekend.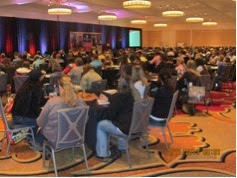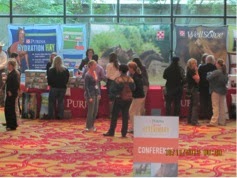 The meeting kicked off on Friday evening with a joint presentation by Dr. Mike Pownall, DVM and Mr. John A. Chalk, Jr., CPA, JD, CFP who talked to the audience about tools for managing and even building business in today's tough economy. The presentations on Saturday and Sunday were focused on equine endocrine and myopathic conditions, topics that were timely and important to the attendees. Purina was very proud to have Dr.'s Dianne McFarlane, DVM, PhD, DACVIM and Stephanie Valberg, DVM, PhD, DACVIM present the latest research findings on conditions including PPID, EMS, PSSM, Shivers and other equine myopathies, along with case-based information and experience to help practitioners with differential diagnostics and treatments.
The Purina technical team presented the latest in research and nutrition topics; Dr. Mary Beth Gordon, PhD, presented the latest research findings published from the Purina Animal Nutrition Center equine research program; Dr. Kelly Vineyard, PhD, covered feeding horses with gastrointestinal disorders; Dr. Katherine Williamson, DVM, shared information on serum and plasma indicators of nutritional status in horses; Dr. Katie Young, PhD, presented how to approach nutritional consults with diet evaluation and recommendations; Dr. Karen Davison, PhD, covered nutritional management of horses with soluble carbohydrate sensitivities. In addition, Mr. Mike Jerina, MBA, reported on the research and renovations going on at the Purina Animal Nutrition Center Horse Unit and Mr. Kent Lanter, MBA, showed the quality and safety measures required in feed manufacturing at Purina Animal Nutrition to the vet technicians. The Vet Tech program also included Merck Animal Health Equine Technical Services Specialist, Dr. Wendy Vaala, VMD, DACVIM who presented important information on effective deworming programs. Dr. Vaala also presented information to the entire conference on Horse Care For Life, a new web-based program participating veterinarians can offer to their clients. Horse Care For Life is a partnership between Merck Animal Health and Purina Animal Nutrition to offer reliable, factual information for horse owners as well as a vehicle for keeping up with health records.
We'd like to extend a special thanks to Deb Reeder and the Board of Directors for the American Association of Equine Veterinary Technicians (AAEVT). It was at their urging that Purina Animal Nutrition instituted the Equine Vet Technician program along with our annual Equine Veterinary Conference. This is a group of professionals who have an unmatched passion for horses.
Saturday evening was highlighted by an exclusive Budweiser Brewery and Stable tour which included getting close and personal with the world-famous Budweiser Clydesdales. We were fortunate, due to the Saint Louis Cardinals playoff schedule, the entire hitch was in town for this group to meet. The Budweiser Clydesdale team served as excellent hosts and managed to rotate over 400 of us through a behind-the scenes stable tour and an interesting brewery tour, all capped off with fun Budweiser beer tasting. Purina Animal Nutrition is very proud to be feeding these awesome horses.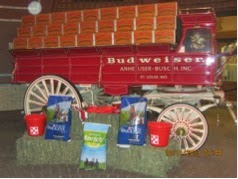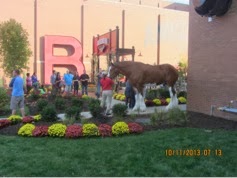 As with all good meetings, there is a tremendous amount of work that goes on prior to the actual event that helps make things go smoothly. Hosting a group this large is quite an undertaking and requires involvement of the entire Purina Horse Business Group, but this meeting couldn't happen without the tireless efforts of Kathy Farris, Marketing Coordinator for the Purina Horse Business. Kathy 's never ending attention to detail and true commitment to making this event a wonderful experience for attendees takes a tremendous amount of time beyond her normal busy schedule. We just couldn't get it done without her. Thanks Kathy!
-
In The Shadow Of Giants….
A few weeks ago, several of my co-workers and I had the opportunity to take part in a behind-the-scenes tour of Grant's Farm, home of the up and coming and retired Budweiser Clydesdales. Many thanks to Dr. Katie Young who organized the tour. ...
-
Feed Fit For A King - Purina And The Budweiser Clydesdales
Ok, I admit it. Even after a year of working with the Budweiser Clydesdales, I am still the worst stereotype of a horse-crazy tourist—taking pictures with my phone of the horses, the dogs, the wagons, me with the horses, and the dogs, and the...
-
What Do These Three Pictures Have In Common?
They are all from upcoming Purina presentations at the Equine Science Society Symposium in Mescalero, New Mexico! We have 4 accepted research abstracts on a wide variety of topics, ranging from salt and water intake, how feed additives affect...
-
Big Fun And "big Ideas In The Big Easy"
I love to attend veterinary conferences. I always have – from the very start of my career as an equine practitioner, through my university faculty years and now as a technical services veterinarian in industry. Sure… attending conferences is...
-
A Busy Time Of Year - Heck Isn't It Always Busy...?
We just finished up two big guest events here on the farm. First we hosted a group of 25 veterinary students from Purdue and Michigan State University. They were primarily interested in livestock research and medicine but there were some who had an equine...
Horses